21 Top 21st Birthday Ideas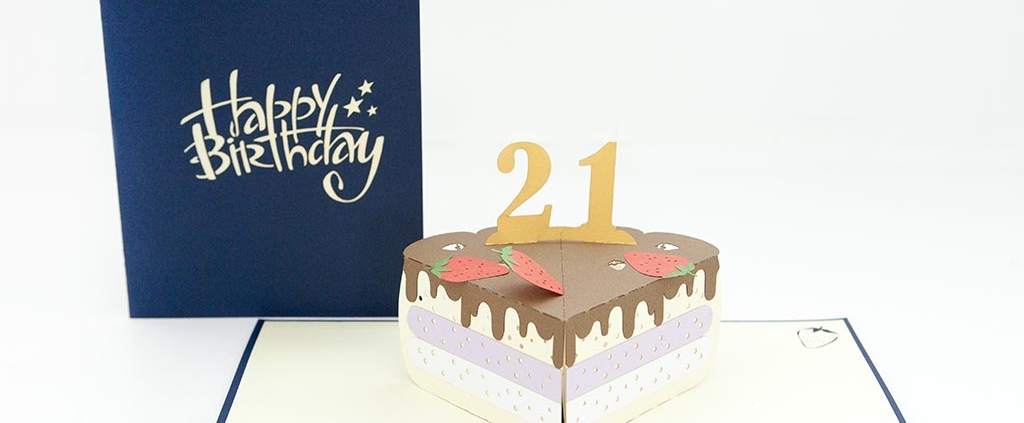 Don't know what to pick for a special 21st birthday? Don't stress, because we've done our research and come up with 21 fabulous 21st birthday ideas that will amuse, delight and spoil the 21-year-old in your life.
21st birthday balloons – Forget balloons with numbers on – splash out and buy 21 helium-filled balloons that fill a room and make a statement. After all, you're only 21 once!
21st birthday cake – send them a delicious hand-baked cake in the post. Cutter and Squidge post them in a cool tin you can keep forever.
21st birthday party – throw their dream party whether it's a rave-up, friends over for a movie or pizza and video games.
Clean booze – buying for a teetotal? There are loads of sophisticated alcohol-free drinks on the market that taste as naughty as the real thing without the hangover.
Rude 21st travel mug – Don't be fooled by the florals. A travel mug by Outlandish Creations can be etched with any rude/cheeky slogan of your choice. We think Instawhore is inspired!
Custom T-shirt – Create your own 21st birthday T-shirt with photos, slogans or art. Use 'Made in…' birthdates or the birthday girl/boys favourite sayings.
 Make it memorable with an etched shot glass…
21st birthday brunch – let them have a lie-in and cook their favourite breakfast/lunch. And don't forget to do the washing up!
Jelly shots – Jelly shots are a 21st birthday party favourite. Use white spirits like vodka and gin and mix with jelly in shot glasses – go easy on the measures though!
Etched beer or shot glass – buy them a glass with their name or initials.
Personalised headphone stand – this sleek headphone stand is perfect for a milestone birthday. You can personalise it with any message. Great for 21-year-old gamers and music lovers.
21st birthday pop-up card – if you're stuck for a card, our 21st birthday 3D card is like nothing else you'll find on the high street or online for that matter, because it's our own unique design.
Box of compliments – let your BFF know how much you care with our pop-up friendship card.
Send a video message…
Personalised sweet jar – send their favourite candy through the post with a personalised 21st birthday message with Ask Mummy & Daddy.
Send a video message – get their mates, friends and family to record messages on their phone and get a company like the Video Message Company to turn it into a birthday gift that will be treasured forever.
21st birthday books – take a look at Penguin's 20 books everyone should read by 30 and pick a couple you think will go down well.
Apple Air Pods – these are the hottest earphones on the market and any 21 year old who gets a pair, will feel thoroughly spoilt.
Celebrity message – get a message recorded by the birthday girl/boy/them's favourite celeb.
Hangover cures – let's face it, most people wake up on their 21 + 1 day with a hangover.
Bubble ball – 21 is still young. Bring out the big kid in them with this inflatable bubble ball. It's the perfect 21st birthday gift idea. Jump inside, do up the straps and roll baby!
Don't forget, we have birthday cards for all ages, shipped from the UK!
https://popuppigeon.com/wp-content/uploads/2021/04/21-birthday-slice.jpg
771
1024
sbrockway
https://popuppigeon.com/wp-content/uploads/2021/03/logo-new-pup.png
sbrockway
2021-06-08 23:23:22
2021-09-22 15:28:23
21 Top 21st Birthday Ideas