History of the cardboard box

If you've got children or cats, you'll understand the joy that a simple cardboard box can bring. I remember a time when my now grown-up kids would spend all of Christmas Day playing with the cardboard boxes their toys came in. They turned them into houses, TV's, cars, rockets etc. They found 101 ways to amuse themselves with a cardboard box. If only it were the same now!
Did you know that before the 19th century, the corrugated cardboard boxes that are common today, didn't exist? The material was invented in 1856 as a way of strengthening top hats.
Edward G.Healy and Edward E.Allen patented the process of pleating paper to make top hats stronger and more comfortable. This paper was sold as a packing material two decades later. It was used to wrap bottles and kerosine lamp chimneys, that had previously been swathed in fabric. Then, in 1874, a chap called Oliver Long, came along and added two sheets of paper to the design. Ta da, he had created corrugated cardboard. The first boxes were made in America in 1894 and cardboard box storage was born. Nowadays, cardboard boxes large and small are a must-have for moving home, packaging, and storage.
Why we used a cardboard box in our new designs
Our latest In-A-Box cards are based on the wonderment and imagination that a humble cardboard box can spark. The internet is awash with memes and GIFs of cats in cardboard boxes and if you search the term 101 things to do with a cardboard box, you'll come up with dozens of hits.
Our suppliers in Vietnam were puzzled when we sent pictures of the box we wanted in the centre of our new cards. They felt compelled to add frills, bows, and flowers, but we insisted that the box should look exactly the same as the one they send to us when they deliver our card orders.
Eventually, they fully embraced the idea and created a pop-up cardboard box complete with Fragile, Handle With Care, and universally used symbols. They then created a gorgeous kitten using slice technology. He pops up from the box when the car is opened. You can see a paw wave at you from the front and from the back, his tail curls upwards.
We have also created a love heart in a box – or Love-In-A-Box as it is known and Boost-In-A-Box. The latter is something new for us. After a tough year,  we wanted to create a card that would lift people's spirits and make them feel good about themselves. Who doesn't like compliments? And they are even better when they pop out of a box in the form of Love Heart-style sweets. It's a fabulous friendship card and also ideal for birthdays, thank-you, or just because.
The new In-A-Box cards landed this morning.  The retail price is £7.50, but newsletter subscribers will be able to buy any card in the range for £5.00 for one week only – keep a eye on your inbox. We've spent countless minutes opening and closing these new cards and marvelling at the card engineering. We feel like kids again and hope they ignite the same kind of joy in your hearts.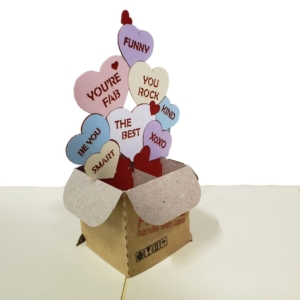 https://popuppigeon.com/wp-content/uploads/2021/05/Cardboard-box-low-res.jpg
1080
1080
sbrockway
https://popuppigeon.com/wp-content/uploads/2021/03/logo-new-pup.png
sbrockway
2021-05-28 15:37:55
2021-06-27 14:44:04
History of the cardboard box