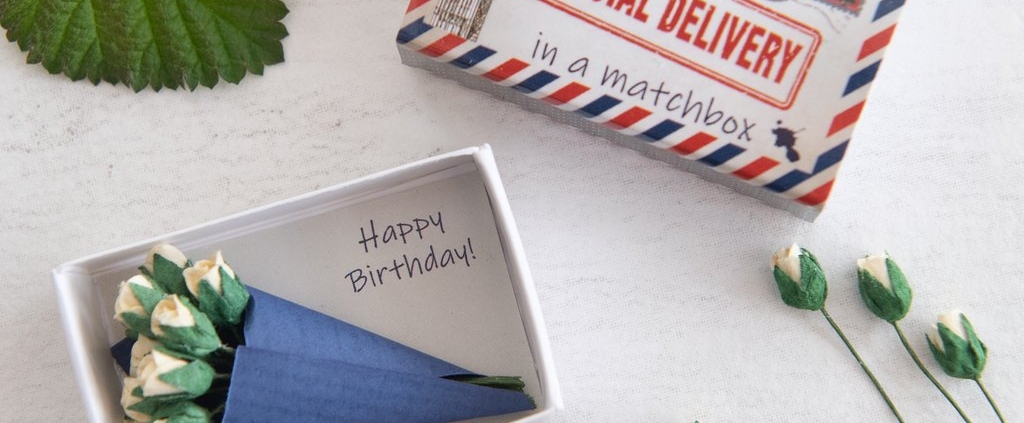 I'm a closet phillumenist, although to be honest, I didn't know the word existed before I Googled the term 'history of matchboxes.' A Phillumenist is someone who collects matchbox-related items. I can't say I have a store of matchboxes, but I have always been fascinated by them. As a child, they'd be fashioned into beds for tiny dolls or act as containers for treasure I'd dug up in the garden (usually old pennies), or the perfect hiding place for keepsakes or sweets I didn't want my sisters to steal.
Even to this day, I will pocket matchboxes I find in fancy hotels or bars, even though I don't smoke and rarely light candles at home.  I like the simplicity of matchbox design and it was love at first sight when I came across a selection of matchbox gifts made by Marvling Bros Ltd.
They are the size of a standard matchbox and each conveys a heartfelt greeting and has a tiny, but perfect gift inside. I love the paper roses in the Happy Birthday Roses Matchbox Gift and the felt hearts in the Little Hug In A Matchbox and I Love You In A Matchbox are adorable. My favourite is the Thinking Of You Matchbox Gift that contains a tiny glass bottle of bee and butterfly friendly wildflower seeds. I can't think of a better way of letting somebody know that they are on your mind.
Marvling Bros Ltd pay home to traditional matchbox designs
Marvling Bros Ltd pay homage to traditional matchbox designs and are the brainchild of two mums from Essex who wanted to create memorable gifts that wouldn't create waste or clutter, but yet feel special, meaningful, and unique.
Their #inabox range sits perfectly alongside our hand-assembled pop-up greetings cards, which also surprise, delight and rarely end up in the recycling bin and we're excited to be offering them as part of our collection. We have half a dozen Marvling Bros gifts on our website and as they are already proving popular, you can expect to see new variations on sale. They are letterbox-friendly, postable gifts that can be sent as a large letter. They are tiny gifts that pack a punch and will be treasured for years.
Early matches were dangerous and their manufacturing caused health problems for workers
Matchboxes have been on sale in the UK since the 1800s – the first self-igniting match was invented by Parisien Jean Chancel in 1805, although it had to be dipped into sulphuric acid, which proved dangerous. Matches continued to be a risky proposition for years – at one time they were made of white phosphorous and there was enough of the chemical in one small box to kill someone.
In 1888 London matchgirls working at the Bryant & May factories went on strike due to the threat that white phosphorous was to their health. White phosphorous was banned in 1910, leading to the development of safety matches – these had a specially designed striking surface made from red phosphorous while the match heads contained potassium chlorate, sulphur and starch.
A lawyer called Joshua Pusey patented the matchboxes carrying matches and a striker in 1892 and sold the patent to a company called Diamond in 1896 for $4,000. In that same year, matchbox advertising was born and matchbox covers became increasingly elaborate – Bryant & May sold beautifully designed metal covers to fit over their matchboxes. Matchbox art is still popular to this day and empty matchboxes are sought after by collectors.
Over time, matchboxes became less artistic and one of the reasons why collectors are so passionate about them is that vintage matchbox covers are like tiny pieces of art as advertisers went to great lengths to depict their products in a picture. Collecting matchboxes of yesteryear is a growing hobby too as in 1998 there were only 7 websites dedicated to phillumeny, while there are now more than 100.
Want to learn more? Check out the British Matchbox Label And Book Match Society.
https://popuppigeon.com/wp-content/uploads/2021/04/special-delivery-matchbox-big-ben_1024x1024.jpeg
1024
1024
sbrockway
https://popuppigeon.com/wp-content/uploads/2021/03/logo-new-pup.png
sbrockway
2021-05-01 15:19:32
2021-06-27 15:59:11
The joy of matchboxes